Home
Welcome to the official BILL KEIS MUSIC Website
Bill is a professional musician: teacher, author, pianist, composer, producer and musical director.
———————————————————-
For info about private music lessons with Bill please visit
http://BillKeisMusicLessons.com/
———————————————————-
New CD released 6/30/15 available on iTunes
https://itunes.apple.com/us/album/smile/id1011270368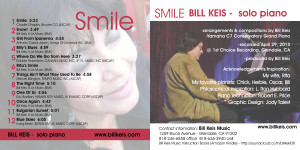 1st Choice Recording
Do you want to record your music?  Need a CD or demo recording?
Bill has been producing recording for over 20 years in numerous styles of music including: Jazz, Rock, Classical, Pop, Country, Latin, Show tunes, etc.
Services: Production, mixing, mastering includes: arranging, songwriting/composition, recording, drum programming and keyboard playing by Bill Keis, Record live bands.  Click Studio tab for more info.