Studio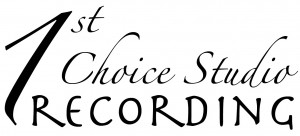 http://soundcloud.com/billkeis08/1st-choice-studio-demo
Tracking/Mixing/Mastering, artists & bands CD's, Film/TV scores
Solo piano recordings, vocal/song demos, singer/songwriter demos
Classical/Jazz/Pop, College entrance submissions, small bands, remixes
CALL 818-246-6856
Gear: Mac Pro early 2009 8-core El Capitan, Logic X
Universal Audio Apollo Quad high-resolution computer audio interface, Universal Audio UAD-2 Duo card,  with 39 UAD plug-ins, UA 610 B Tube Mic Preamp, iZotope RX 6
Neumann TLM 49 mic, assorted other mics including, Studio Projects condenser (2), Shure SM 58 & 57, MXR3000
MOTU Midi Express, PreSonus HP60 headphone amp, Radial JDI Duplex stereo direct box
Tannoy powered monitors and sub, Avantone Mix Cube, Roland MA-8 nearfield monitors
EWQL Hollywood Strings Diamond, Spectrasonics Omnisphere, Stylus RMX and Trilian, Garritan Personal Orchestra 4
Melodyne editor by Celemony,  Finale 25 notation software, many soft synths & loops & sample libraries
Keyboards: Yamaha C7 Conservatory grand piano, KORG KRONOS 73, Yamaha CP4 digital piano, Roland FA 06, M-AUDIO Axiom Pro 61, Roland AX-7
Success Stories:
"It was a wonderful experience and I couldn't be more pleased.  When I need another demo, you will definitely be my 1st Choice!"  Singer T.M.
"I had a wonderful experience. Bill is not only a real pro technically, he was also a pleasure to work with. He understood what I was trying to accomplish and provided the perfect blend of guidance ans expertise." Pianist J.F.
"The recoding quality is better here than our other CDs.  We should have recorded those here!" Bandleader J.E.
"The sound on the CD is incredible!! Everyone is asking me who the mastering engineer was." Radio Host E.M.M.
"Bill's experience working in many studios over the years including: Ocean Way, Mad Hatter, Conway, Capitol Records, etc. really shows."  Guitarist H.T.